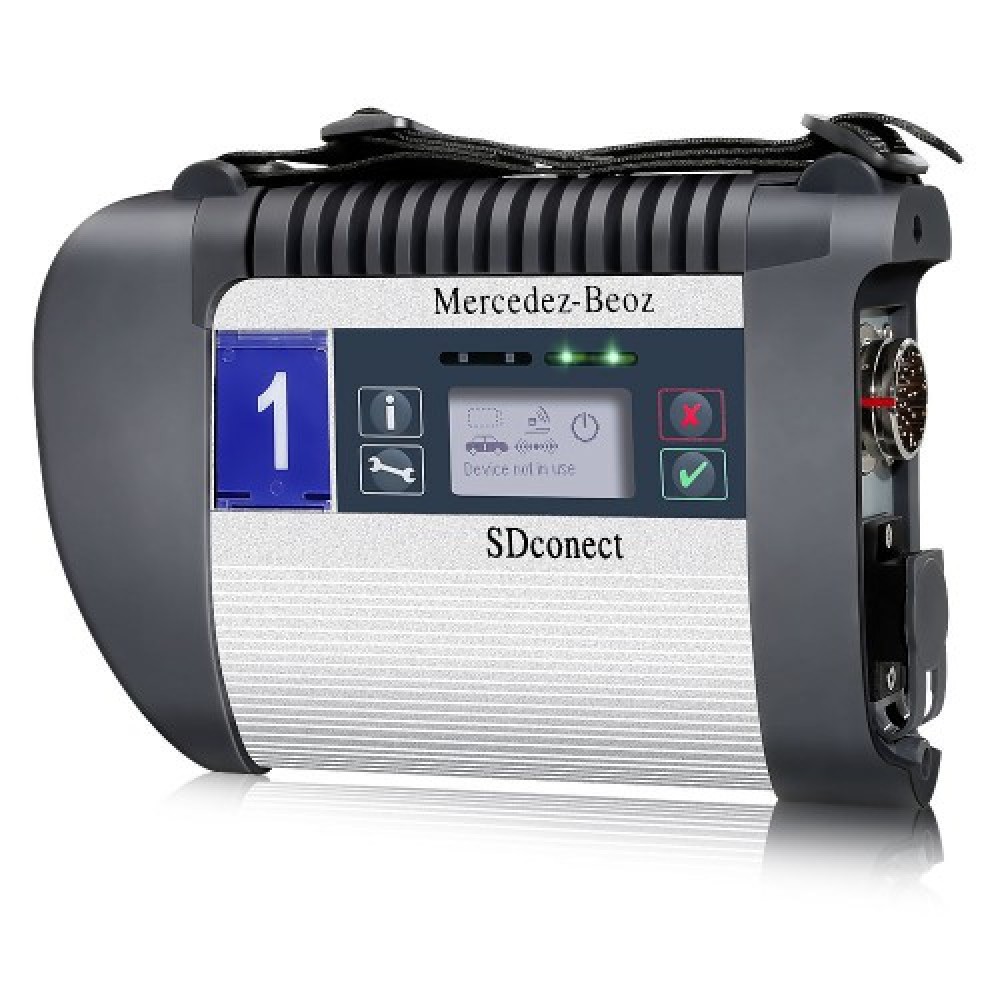 DOIP MB SD C4 PLUS Connect Compact 4 Star Diagnosis Scanner with Free DTS Monaco,Vediamo
Product Description
DOIP SD C4 PLUS V2022.12 MB SD Connect Compact 4 Star Diagnosis Supports DoIP with Free DTS Monaco & Vediamo
The new MB SD connect C4 (1:1 clone of the original) is able to work for DoIP.
Compatible with original Benz dealer diagnostic software.
It's the only C4 that supports ethernet communication (DoIP).Tested without issues on new mercedes with doip.
You don't have to install batteries for firmware update.
No need to worry about firmware damage in the update process
The wireless connection is stable.
C4 is connected automatically to WLAN for diagnostic tests.
This SD Connect C4 diagnosis tool has better quality. It's waterproof, shockproof and tamper proof.
Top Reasons to Get MB SD C4 PLUS
Remote help is available.
With Free DTS Monaco, Vediamo
Supports both 12V Cars and 24V Trucks.
Software is easy to install and activate, supports most of laptops.
New cooler for long operation
Improved WifI
Easier WiFi setup
No batteries needed to flash
V2022.12 Software includes:
WIN10
Xentry 2022.12
DAS 2022.12
EPC 11.2018
WIS 07.2021
SDmedia offline 2014
Vediamo 5.01.01
Vediamo Database 2019
Star Finder 2016, 2020 and 2022
PL76 2022.01
DTS Monaco 8.16.15 & 8.14, 2019 and 2021 database
DisassembyAssistant
Notice:
SCN Online Coding Function , please choose software version before 2019.12, like 2019.09
Support languages: English, Croatian, Czech, Danish, Dutch, Finish, French, German, Greek, Hungarian, Italian, Japanese, Korean, Polish, Portuguese, Romanian, Russian; Spanish, Swedish, Turkish, Chinese.
Why do you Choose MB Star Diagnostic Xentry Software?
1. MB Star Diagnostic DAS/Xentry Software Compatible with MB SD C4/MB SD C5
2. DAS/Xentry Software work for Mercedes Benz Car & Truck Diagnostics till 2020
3. MB Star Diagnostic DAS/Xentry Software with MB subscription
4. Mercedes engineering Vediamo & DTS Monaco software option perform more professional functions
Doip MB SD C4 Vehicle List-Support MB Cars After Year 1989
Passenger Car Support List:
A(176), A(169), A(168), B(246), B(245), CLC(117), C(204) C(203), C(202), 190(201), E(212), E(211), E(210), 124(124), S(222), S(221), S(220), S(140), S(126),
E(207), CLK(209), CLK(208), CLS(218), CLS(219), CL(216), CL(215), CL(140) SLK(172), SLK(171), SLK(170), SL(231), SL(230), SL(129), SL(107), SLS(197),
M(166), M(164), M(163), G(463), G(461), E(212), E(211), E(210), 124(124), S(222), S(221),S(220), S(140), CLK(209), CLK(208), CLS(218), CLS(219), CL(216),
CL(215), CL(140), SLK(172), SL(231), SL(230), SL(129), SL(107),SLS(197), M(166), M(164), M(163), G(460), GL(164), GLK(204), R(251)
Van Support List:
MB 100(631), T1, SprinterIII, SprinterII, SprinterI, Sprinter900, Citan, Vito(639), Vito(638), V(638), Viano(639), T2, Vario, Vaneo(414)
Truck Support List:
Actros963/4, Actros2,3, AtegoIII, AtegoII, AxorII, Eonic, Zetros, Actros, Atego Light, Atego Heavey, HPN M96, Atron, HPN M2000, SKL, FSK, Further model series
Unimog Support List:
U20, UGN, UHN
Bus Support List:
TRAVEGO, INTOURO, INTEGRO, CITARO, CAPACITY, CITO, TOURISMO, O350/O403, CONECTO, O404, O405-O408,
Minibus, OC500, TOURO, TOURINO, MBC, MULITEGO, O500, O500/OH, OH, OH368, OF, OF384, LO, O400, FURTHER MODEL SERIES
Super Sports Car Support List:
SLR(199)
The new c s-series to the factory installed conversion:
222, 205 installing fragrance systems
2015, paragraph 212, changing traffic light permanently lit
212, 204, adding electric ear
222 205 HU5 traffic solution for DVD video
W164 closed recycling system
W205, retro atmosphere lamp
205, 222 adding electric ear electric trunk, the trunk kicking function
166, how to modify the gateway set up codes
166 meters finished degrees Fahrenheit to degrees Celsius
US standard maintenance mileage be set to the number of miles
164 disabled diesel particle filter regeneration system
166 canceled urea
205 added electric rear vision mirror
HU45 regional Chinese resolve lock
W204 W166 foldable rear-view mirror
Change the 166 on board, display in Celsius
W212 disable ECO configurations
Activate the HOLD function ABR2XT
Open W22 looked up appears
AMG sports package enabled W212
The air bag computer reset factory State W166
Increase the brightness of the color instrument cluster s W222
722.97g to install the steering wheel shift paddles
W221 AMG W216 dashboard style
Airbag ECU unlock W204 212
Disabled child seat recognition sensors W221
Opening rear fog lamps as spare brake lights with W222
Increasing engine power MED177